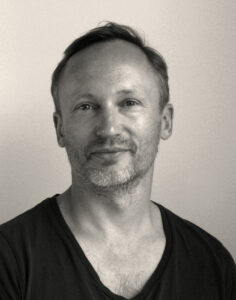 Martin Schwartz
Martin Schwartz (born 1974) is a Danish illustrator and graphic designer who works from his studio in the Vesterbro neighborhood of Copenhagen.
With his series of detailed city posters, Martin Schwartz has distinguished himself as one of the most significant poster designers in Denmark, and today his posters are sold to a large international audience.
Martin Schwartz's city posters are intended as a tribute to the many different buildings found in every city – whether they are ugly, ordinary or iconic does not matter, as long as they are descriptive of the city's DNA.
Getting to understand the soul of a city requires a lot of research, and thus Martin Schwartz dedicates a lot of time understanding the city he has to draw. Each poster begins with a long stay in the city, during which he bikes through the city while photographing and decoding the characteristics of the various neighborhoods. The drawing process itself typically takes 3-4 months.
The end result is a poster that depicts the city's most iconic buildings, historic bars or locally known eyesores down to the smallest detail; all carefully matched to the colors of the city.
All buildings are drawn as elevations, which gives the composition a harmonious and timeless expression that has already made Martin Schwartz's city posters modern classics.
---
---
---
Link to a great article on the many positive effects of making puzzles by our friends from Gifting Online in Canada